Film Review Friday: The Mitchells vs. the Machines (2021)
May 14, 2021
by Emily Nagle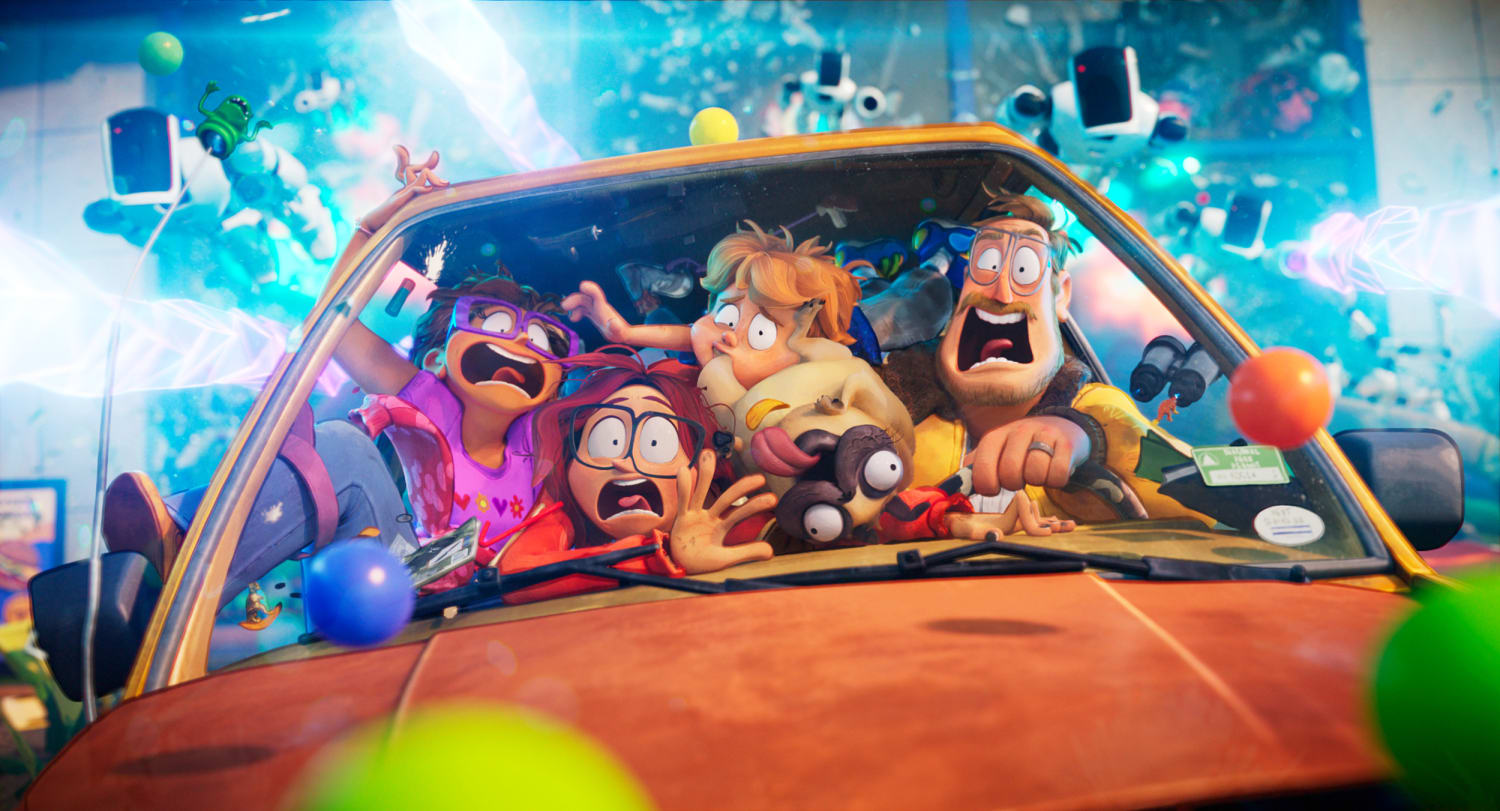 (4.5 / 5)
This week, I'm reviewing Sony's "The Mitchells vs. the Machines", which just dropped on Netflix on April 30 (in addition to a limited theatrical release a week earlier). It follows the Mitchell family as they take a cross-country road trip to drop off their daughter Katie at her first year of film school in California, but suddenly end up having to save the planet when electronics come to life and try taking over the world.
Confirmed by Sony to be in development since May 2018, the movie's producers included Phil Lord and Christopher Miller, a duo best known for directing and producing movies like "Cloudy With a Chance of Meatballs" and "The Lego Movie." Which makes a lot of sense, because there were moments during this movie that reminded me a lot of those two other films (both of which are also very well-made). Maybe it was because of the themes of parent-child relationships or technology going crazy.
I found the visual style of "The Mitchells vs. the Machines" to be unique. Even though most of the people and objects are CGI, a lot of the backgrounds had a bit of a softer, almost painted look to them at times. I noticed this with a lot of indoor settings in the movie, like some stores and the Mitchells' home, as well as some exterior shots like the Mitchells' neighborhood. It may have been subtle, but it made the characters pop more. Something else visually that made it special was that there were these little hand-drawn effects that popped up onscreen often, kind of like the comic book-esque special effects in "Scott Pilgrim vs. the World." It added even more life to an already high-energy, colorful film, and also showed us how Katie views the world. As she explains in the beginning of the film, she always felt a little different from her peers growing up.
As I mentioned earlier, one of the themes explored by this movie was family relationships. The night before Katie leaves for college, she gets in a fight with her technophobic, nature-loving dad, Rick, who's worried her whole dream of becoming a filmmaker may not go that well. Rick then ends up cancelling Katie's plane ticket so the whole family can drive all the way from their Michigan hometown to California, in hopes that they will mend their relationship. They end up becoming even closer when they work together to fight off evil robots and free humanity from the evil PAL artificial intelligence, which has captured every human on Earth. All the while, Rick fixes his bond with Katie, and realizes that technology isn't as evil or complicated as he thinks it is.
The movie was also incredibly written. I mostly noticed little things, like a small moose figurine that symbolized Katie's relationship with her father. After the two get in that argument, Rick watches some home movies of his daughter over the years and reminisces about when the two weren't always at each other's throats. One of them shows young Katie crying and clinging to her father's leg, scared to get on the bus for summer camp. He ends up giving her one of his favorite things, a small moose figure out of his car, to have at camp, telling her to make the moose happy. Fast-forward to the present, when Rick finds a cardboard box in the hallway filled with things Katie wants to get rid of, and finds the moose in there. This is what drives him to spring into action and repair his relationship with Katie. Even at the end, the moose ends up coming back when the family is finally dropping Katie off at college. Except this time, she's not afraid – she's ready for this next chapter of her life, and in a better place than she was before, too.
I was impressed with the voice acting, particularly from Eric Andre, who played the founder of the tech company. Even though he's best known for his work on The Eric Andre Show, I notice he's been getting more into voice acting over the past couple of years, with prominent roles in The Lion King (2019) and Disenchantment. The Mitchells' fat pug, Monchi, is even voiced by a real dog – none other than canine internet star Doug the Pug. I found out that Sony chose to use a real dog to play Monchi because they wanted the film to be more realistic, and I loved it.
"The Mitchells vs. the Machines" is something special, and I recommend it to anyone who likes animation! It's quirky and fun, and I really haven't seen anything like it in recent years. It's fun to look at, and the story is incredibly well developed. The characters are all different and admirable in their own way, from creative Katie to her dinosaur-obsessed brother Aaron. It's already one of the best movies I've seen all year.