Film Review Friday: Rugrats (2021)
June 11, 2021
by Emily Nagle
(4 / 5)
Recently, Paramount+ debuted a CGI reboot of Nickelodeon's 90s hit, "Rugrats." Season one of the show arrived on the platform on May 27, 2021, and has five episodes so far. A few weeks before the show's release, Paramount+ also uploaded a few animated shorts of the show to their YouTube channel.
The first time I heard about the return of the Rugrats was a few years ago in 2018, when it was announced that the cartoon would be receiving a revival series, in addition to a CGI/live action film. The film hasn't come out yet because of the pandemic, but I initially didn't know how to feel at the idea of seeing the Rugrats in a completely different medium. I mean, look what happened with Tom and Jerry a few months ago – the animals looked like they were made of plastic despite being in a live-action setting, and it didn't go together well at all. Sometimes characters just look better in a different style.
The animation style for the original "Rugrats" series was 2D, and interesting because the creative team went for something a little different. It looks a little rough and squiggly. In an interview with the creators of the show, it was said that Gabor Csupo was going for a "strange" visual style, and I think that's a good way to describe it. It's definitely not scary or anything, but it doesn't look like anything else that was on the network before.
As for the reboot's visual style, it's not creepy-looking at all. It doesn't look generic or mass-produced, and they really did take their time to make all the characters look different from each other, just like in the original show. They don't look hyper-realistic, but at the same time, the animators managed to keep it looking as cartoonish as the original. Like, I noticed that Didi's (one of the moms) hair moved with her, and didn't just sit there on her head like it was made of plastic. Even though it was such a small detail, it stuck with me. I've seen a lot of CGI shows over the years that just didn't look right. Mostly shows based on movies like The Boss Baby, Monsters vs. Aliens, and Kung Fu Panda. Even though the animation in the movies was good, the shows looked lazy at times, and often had choppy movements.
I also love how they kept in those shots from the original that were from unique perspectives. Particularly when the camera was inside one of the kids' mouths, or when it was showing Spike's point of view, with his long nose sticking out in the middle of whatever was going on.
In addition to the visual aspects, another one of my favorite things about this series is that the voice actors for the kids are the same as in the original. E.G. Daily reprises her role as brave leader Tommy, in addition to Nancy Cartwright as high-strung Chuckie, Kath Soucie as twins Phil and Lil, and Cree Summer as spunky Susie. Even Angelica's voice actor (Cheryl Chase) returned. 30 years later, the babies sound more or less the same as they did in the original.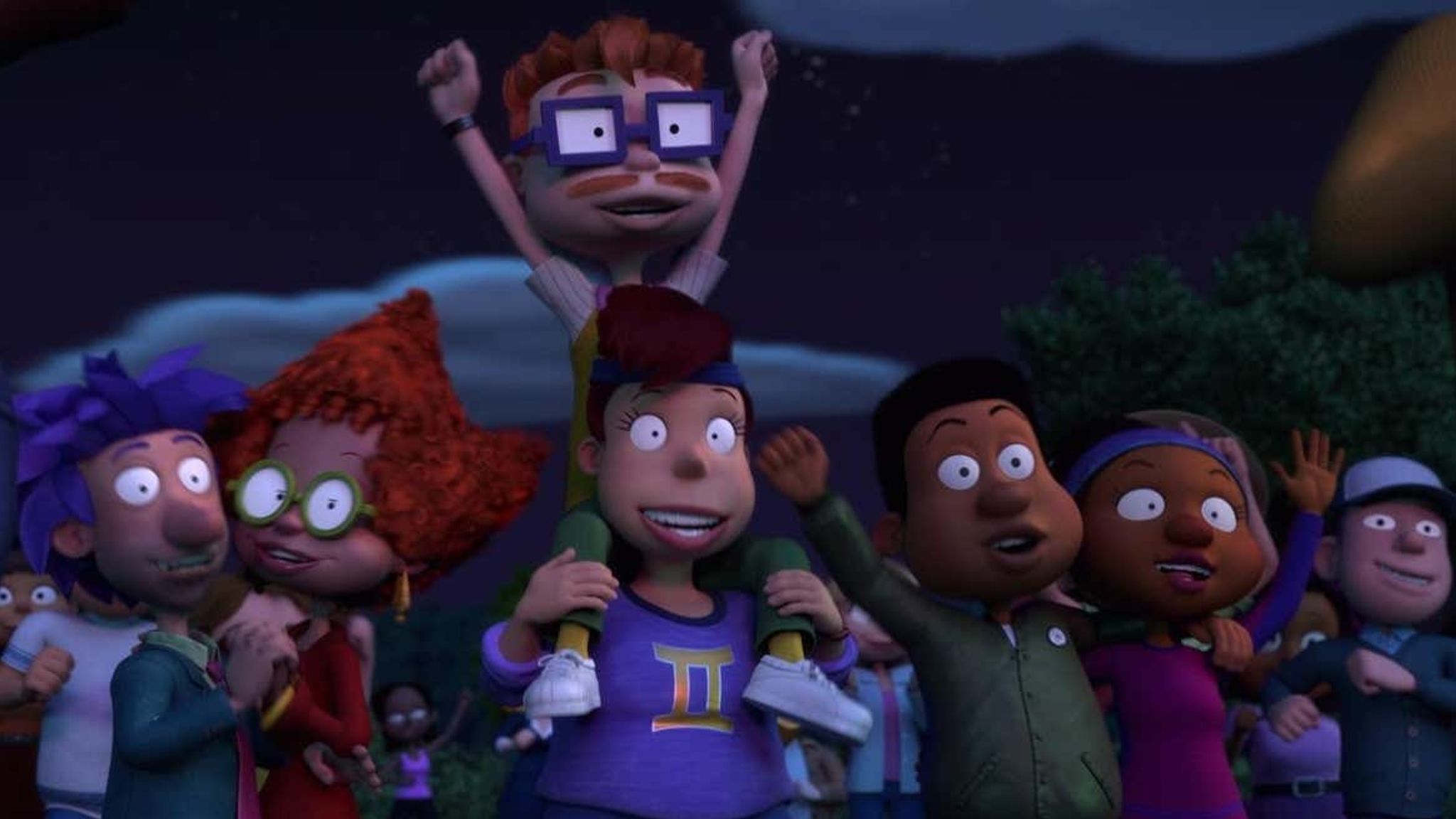 On the other hand, all the adults have different voice actors now, which took a little while to get used to. Funny thing is, they're actually younger than the voice actors for the babies! They also changed some of the adults' personalities and other traits – Phil and Lil's mom is now a single lesbian mother, whereas in the original she had a husband. Meanwhile, the adventurous Grandpa Lou is reinvented as a hippie, and is seen doing yoga in the intro. I actually don't see anything wrong with these changes. It's about life through the eyes of a toddler, and the adults are just there to be oblivious to their misadventures. Because of this, I don't think it's that big of a deal that they changed around a few things about the parents. This show is really about the babies, who are just as imaginative and curious as they were in 1991.
That leads me to something else that's different about this reboot: the babies are the same age they were in the original, even though it clearly takes place in the present day. This change lands the iconic babies in some crazy situations. In one of the episodes, Angelica steals Lou's smartphone and invites a bunch of older women (and a man) over to the house through a senior dating app that she thinks is a "grandma store."
So, what are my final thoughts on the show? I actually enjoyed it more than I thought I would. It's not bad, but it still doesn't compare to the original. I'm excited for a whole new generation of kids to get reintroduced to the iconic babies. Even though I liked the show, I've been seeing lots of comments mainly on YouTube from 90s kids who don't see the reboot as a faithful adaptation of the original. But again, I don't see it as that big of a deal that they changed a few smaller details. If they did something like introducing a completely new baby to the group (who wasn't in the original show), then I might understand why people were so opposed to it.
I recommend "Rugrats" to anyone looking to watch something nostalgic, and maybe even interested in introducing their kids to the shows they grew up with!