What We Do in the Shadows
A documentary-style look into the daily (or rather, nightly) lives of a group of vampires in Staten Island who have "lived" together for hundreds and hundreds of years.
Creators:
Jemaine Clement
First Air Date:
03-27-2019
Production Companies:
FX Productions, 343, Two Canoes Pictures
Season 0
9 Episodes
Air Date: 2021-09-02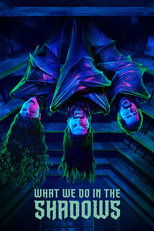 Season 1
10 Episodes
Air Date: 2019-03-27
After an unexpected visit from their dark lord and leader, Baron Afanas, the vampires are reminded of what they were initially tasked with upon their arrival in Staten Island over a hundred years ago – total and complete domination of the New World. But what exactly is the best way to go about achieving said domination? Our vérité camera crew follows along as the vampires set out to answer this query.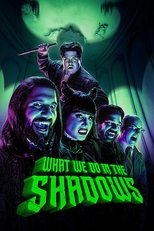 Season 2
10 Episodes
Air Date: 2020-04-15
The vampires try to find their way in a world of human Super Bowl parties, internet trolls, an energy vampire who gets a promotion and becomes drunk on power and of course, all the ghosts, witches, necromancers, zombies and shadowy cloaked assassins who roam freely in the Tri-State area.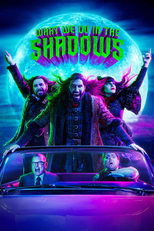 Season 3
10 Episodes
Air Date: 2021-09-02
The vampires are elevated to a new level of power and will encounter the vampire from which all vampires have descended, a tempting Siren, gargoyles, werewolf kickball, Atlantic City casinos, wellness cults, ex-girlfriends, gyms and supernatural curiosities galore. Plus, Colin Robinson is turning 100. And Nandor, faced with his own eternal-life crisis, tries to inject his life with more meaning.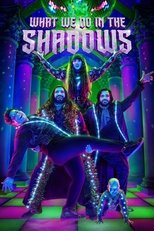 Season 4
10 Episodes
Air Date: 2022-07-12
The vampires return to Staten Island to find their mansion on the verge of total structural collapse — and with no money to repair it. While Nandor's eternal search for love finally yields results, Nadja finally realizes her dream of opening the hottest vampire nightclub in the Tri-State Area. Laszlo struggles with the question of nature versus nurture as he tries raising Baby Colin to be anything other than an energy vampire. And even Guillermo finds himself on a powerful emotional track that touches on his love for his family, and for others.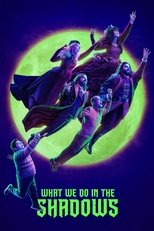 Season 5
6 Episodes
Air Date: 2023-07-13
Nandor feels his familiar (and sometimes friend) Guillermo slipping away as he seems to be spending much more time with Laszlo, whose skills as a gentleman scientist are put to the test as he tries to solve the mystery of the strange and very secret changes Guillermo is going through. Nadja, suffering the effects of a previously-undiagnosed supernatural hex, reconnects with her family - or at least, a family - from the Old Country, Colin pursues the path of so many energy vampires before him by running for political office and The Guide tries to figure out where she fits in as the relative newcomer to this tightly-knit group who've known each other for centuries.
Reviews for
What We Do in the Shadows